IEBC completes induction for 4 new commissioners
New electoral body commissioners have completed four-day induction on the IEBC.
The commissioners underwent an induction programme, which included corporate governance and Commission operations.
They were also introduced to the IEBC Senior Management staff at the Headquarters as well as the County Election Managers (CEMs), according to a statement sent today by IEBC.
"New Commissioners were today introduced to the 47 County Election Managers, who shared their experiences, programmes and status of preparedness ahead of the 2022 General Election," the statement said.
The four Commissioners are Juliana Cherera, Francis Wanderi, Irene Masit and Justus Nyang'aya.
"The knowledge and experiences shared by the Consultants, Commissioners and Senior Management from both headquarters and the field will enable the new Commissioners to settle in their assignment," IEBC said.
The Commission was also pleased to announce that the Chairman and the Six Commissioners have given their commitment in supporting one another and working very closely with the Secretariat to deliver a successful and credible 2022 General Election.
The Commission plans to carry out Enhanced Continuous Voter Registration (ECVR) activity in October 2021, for 30 days. In this exercise, the Commission targets to register at least Six Million new voters at the County Assembly Ward level.
"We urge all eligible Kenyans who have not registered as voters to turn up in large numbers and register," the commissions said.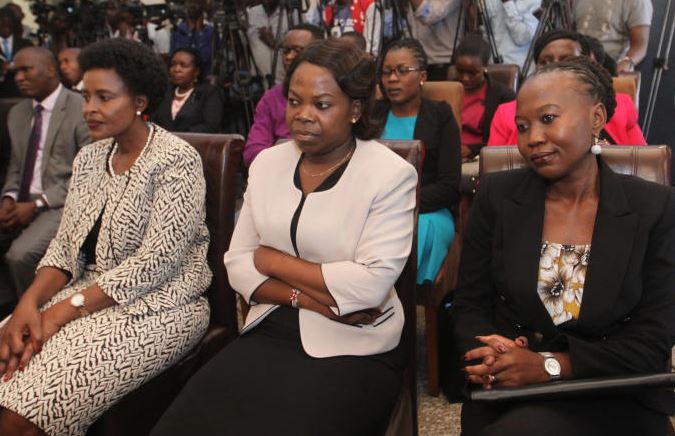 The four commissioners who were cleared for appointment after president Uhuru Kenyatta nominated them hold a combined wealth of Sh213 million.
Juliana Whonge Cherera, Francis Mathenge Wanderi, Irene Cherop Masit, and Justus Abonyo Nyang'aya provided a detailed breakdown of all the sources of their wealth during the parliament vetting.